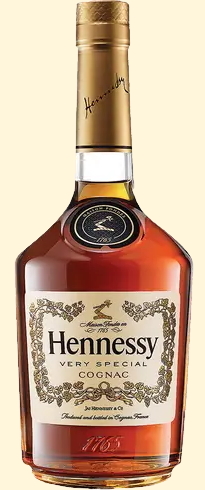 Hennessy

In the 17th century, many mercenaries of various origins joined the French armies. One of them was the Irish Richard Hennessy who fought for Louis XV. After he quit the army, Hennessy stayed in France and in 1766 became a merchant in Cognac. His son James specialized in Cognac and as the company's logo chose an arm carrying a weapon, to commemorate how, through his military carerr, his father had became French. England was the main buyer of Cognac, especially (or was this an excuse) since Cognac had a reputation for being a great antiseptic. Thus the cholera epidemies of the early 18th century helped establish Hennessy as a main purveyor of fine medicine and they've stayed on top of the "pharmaceutical" game ever since.
Jack Daniel's

Jack Daniel's is not a bourbon but whiskey from Tennessee. Distillers from that area let the whiskey drip through a layer of charcoal which adds the extra touch. So Jack Daniel's is basically a bourbon with a local twist. The US government decided in 1941 that mellowing the whiskey with charcoal is not characteristic of bourbon, that Jack Daniel's is therefore to b considered Tennessee whiskey.

Jack Daniel's advertising says that Lynchburg where JD is made is a dry, meaning an alcohol free place. But a reported story says that when asked, a local responded, "Well, we don't have any town drunks." And after a pause, he added "We all take turns." So the place might be officially dry but people still enjoy a good drink now and then.

The name originated from Jasper Newton (Jack) Daniel who was born in 1846 as the youngest of ten children. When his mother died, his father remarried but Jack didn't get along with his stepmother so he left home at the age of six and lived with neighbors. When he was seven, he went to work for a preacher, Dan Call, who also made whiskey which he sold at his store. Jack being a good worker, the preacher made him a business partner. When Mr Call decided to become a full-time preacher, he sold his store to Jack who was then 13. Yep, 13! Meaning that at the age of 13, Jack Daniel was not only a store owner but also a distiller. He was an excellent distiller and his business boomed. Around 1860, the government started to tax distillers and Jack's distillery became the first registered distillery in the USA.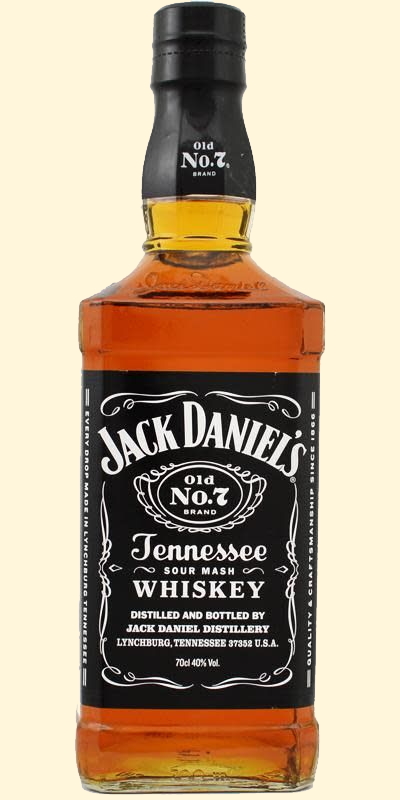 J&B

Giacomo Justerini became besotted with the singer Margerita Bellino. When she went to London, Giacomo followed her. Apparently, the folamour didn't work out and Signor Justerini was stuck in London, where he became a wine merchant in association with a Mr Johnson, who a few years later sold his shares to a Mr Alfred Brooks. The company was renamed Justerini & Brooks. They were also selling Scottish whisky, but unsatisfied with its quality, they started to bottle their own. Since Justerini didn't sound too Scottish, they shortened their whisky's name to J&B.

Jupiler

Belgium beer originally brewed in Jupilles-sur-Meuse.

Kanterbräu


Hans Kanter was a chemist very interested in the beerbrewing process. As his mother had been Jewish, he fled Germany for France in the mid-30s where he met Mr Hanus, owner of a brewery near Nancy. In 1971, a conglomerate bought the brewery where Mr Kanter had worked and brewed a beer based on Mr Kanter's original recipe. They named it Kanterbräu - Mr Kanter's brew.

Kronenbourg

The Hatt family founded its brewery in Strasbourg in 1664, which explains that one of its liquid offsprings is named "1664". To avoid the floods from the river Ill, the owners moved the brewery to Cronenbourg, a small place on one of the hills surrounding Strasbourg. After WWII, the brewery decided to rename their main beer after the name of their hometown, but to make the name sound more alsatian, they replaced the C by a K.

Laurent Perrier

Mr Laurent was a barrelmaker who decided in 1812 to make his own champagne. His son married Miss Perrier, hence the name Laurent-Perrier. More interesting is the fact that the company never owned wineyards, instead bought grapes from contracted winegrowers. Laurent-Perrier is best known for its "Cuvée Grand Siècle".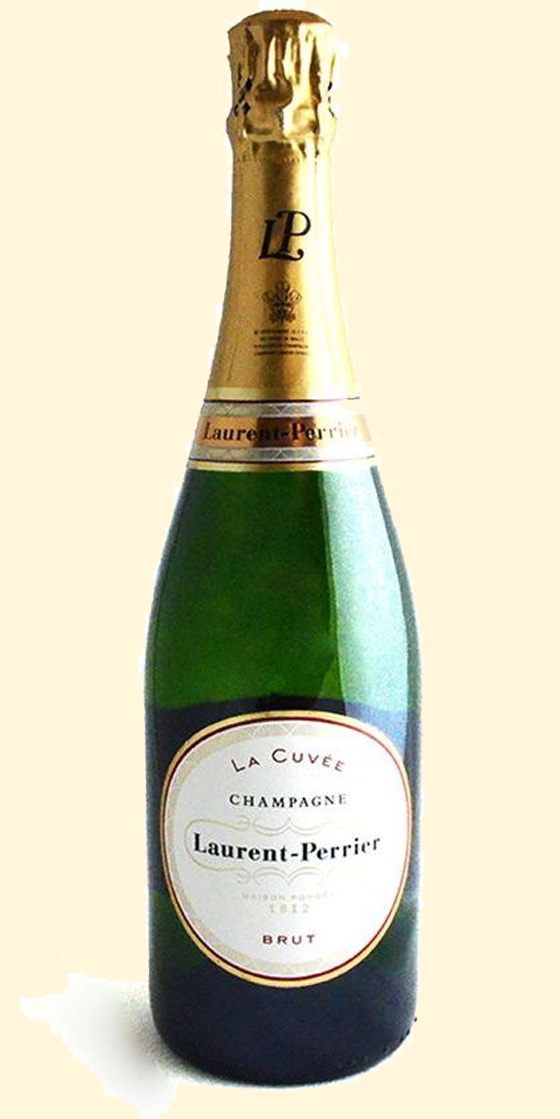 Long John

John McDonald is not the inventor of Longjohns but the founder of his own distillery in 1823 in Scotland which he named after Scotland's highest mountain, Ben Nevis. Since John was a very tall fellow, his whisky was appropriately named "Long John's Dew of Ben Nevis", which later became simply "Long John's".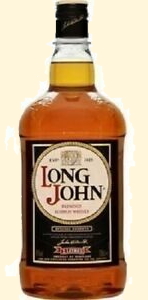 Martell

Jean Martell was born on the Isle of Jersey and moved to Cognac where he set up a brandy export in 1715. His label depicts the origin of his name, Martellus, which meant warhammer. He sold his brandies mainly to England and its surrounding islands as well as to the Northern European countries. Brandy was then the British favourite strong liquor. But in 1863, a little fungus, phylloxera, arrived from America and its arrival had the most unexpected consequences (sounds familiar to anybody who's into Grateful Dead). The phylloxera fungus is harmless in American wineyards, but it killed off European wineyards by attacking and destroying the roots. No wine (and no winebarrels), no Cognac, no brandy. So, around the 1870s, due to circumstance and an unabated lust for strong drinks, the British despaired of ever getting their Cognac back and switched to whisky. But Jean Martell's sons Jean and Frédéric kept the faith and the house of J&F Martell keeps producing fine cognac to this day.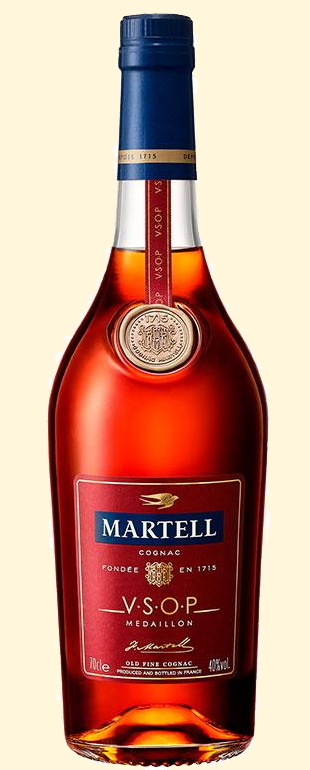 Martini (Vermouth, Continental European style)

There's Martini and Martini, depending on whether you are Continental European or North-American. We'll start with Martini Continental-style. A Martini is a vermouth, either red or white, Martini Rosso or Bianco, and both are made by Martini-Rossi. What's a vermouth? It's a wine that has been aromatized with herbs, roots and other naturally bitter things. Alessandro Martini and Luigi Rossi were both working for the "Distilleria Nazionale di Spirito da Vino". The first was responsible for the business, the second was the company's herbalist. The two became friends and with a little shaking and stirring took over the company they worked for and renamed it after their last names. Their Martinis have been popular since.

Martini (American style)

The dry martini is said to have been created around 1860 by Jerry Thomas, a barman at a San Francisco hotel. Jerry made his martinis of gin, a little vermouth and an olive. These days, a martini can be made of either gin or vodka or both plus a drop of plenty of other things than vermouth. The original dry martini was made of Gin with a precious little vermouth, most often a Noilly&Prat (owned now by Martini&Rossi!). Later, it became accepted to use Vodka instead of Gin. Nowadays, a well-balanced dry martini may contain both.

The perfect late 20th-Century Martini therefore is made of either gin or vodka, a hint of vermouth and a biologically grown and handplucked olive of the best kind, the kind they make cold-pressed extra virgin olive oil with. There are many varieties. A "dirty Martini" contains no vermouth, but is made of Gin or Vodka with (freshly pressed or bottled) olive juice. I prefer the bottled, since I don't see how a barman could equal a good bottled olive oil with his hand-press and a handful of canned olives. James Bond's martini was shaken, not stirred and was made of three measures of Gin, one measure of Vodka, and half a measure of Lillet. Lillet is an apéritif by the Société Lillet from Bordeaux. It comes as red or white, depending on which wines and fruits are used. One can use either kind for the martini.

A most essential thing about a perfect dry martini is the ice used. Nothing worse than a martini watered down by ice too soft. Make sure to deepfreeze the ice you're using and only put it in the glass at the last second, so that you will have enjoyed your martini before the ice melted. Needless to say, you don't make this ice with just any recycled tapwater.