The Raidillon is that bit of track that goes up from Eau Rouge onto Kemmel.

The question you ask in front of the TV screen is, how steep is it?

There are a few ways to answer that.

1. Walk it up and you'll arrive at the crest breathless unless you're a VERY fit person;

2. If you drive it up in a good middle-class car, you'll have to gear down if you want to keep some speed;

3. Here's what it looks like when approaching it and you're still on the way down into Eau Rouge: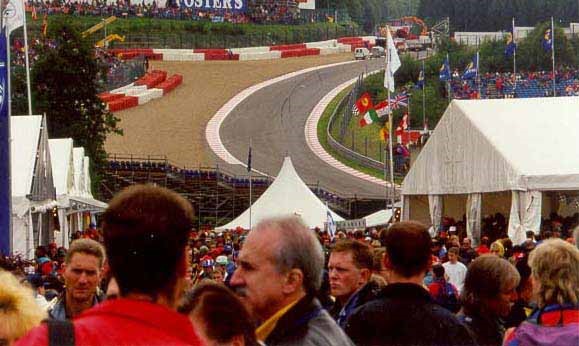 To give you another point of view, if you stand in the Raidillon grandstand, this is how you see it: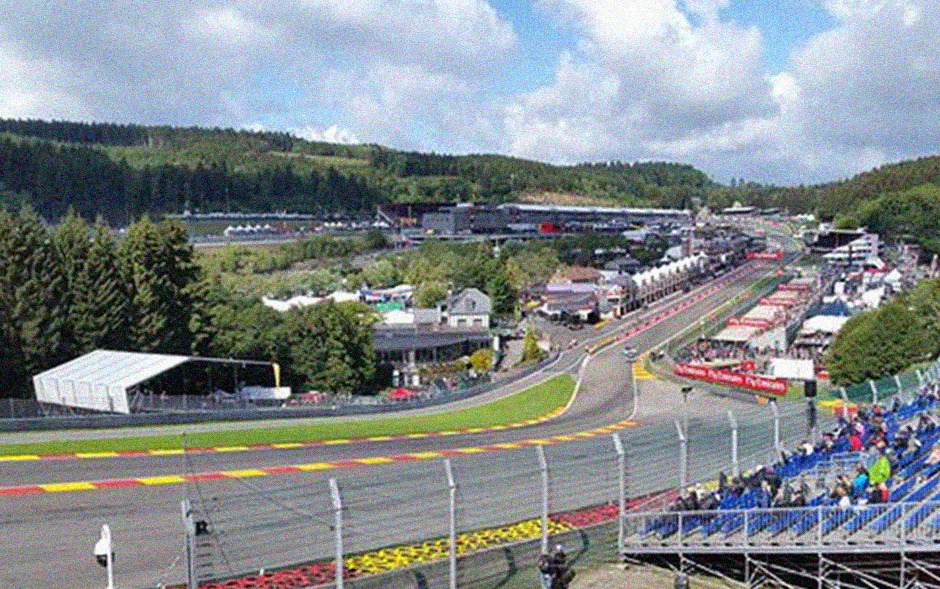 How does one get to the Raidillon? At the start, you turn into La Source, the hairpin at the end of the start-finish straight. It's called La Source, because a little stream starts there. After the hairpin, you look down into what will become Eau Rouge corner. Eau Rouge means litterally Red Water. The soil in the region is full of iron, the stream's water runs over that soil and eventually turns a rusty red, hence Red Water. If you're standing at Raidillon, here's how you see the stretch leading into Eau Rouge: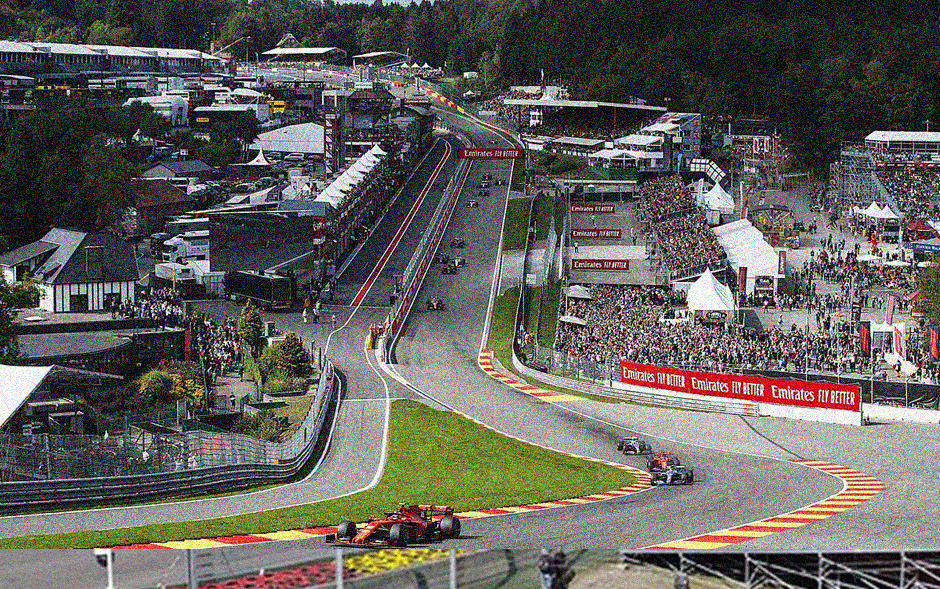 You enter the corner. The car sits down. Figure a few gs pressing down the car (and your body). The marks on the tarmac tell the story.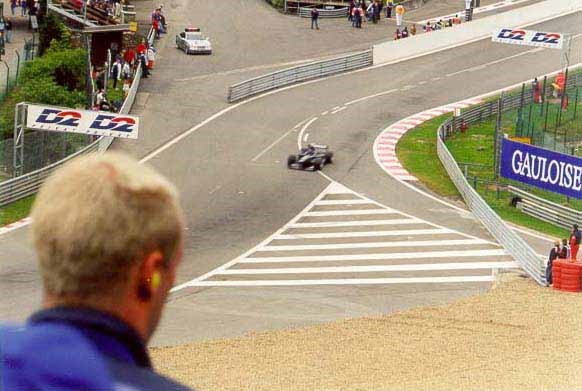 Another view where you see the what makes the corner what it is. If you miss the entry, you better lift or you're in deep trouble. After all, you're coming in here at full speed.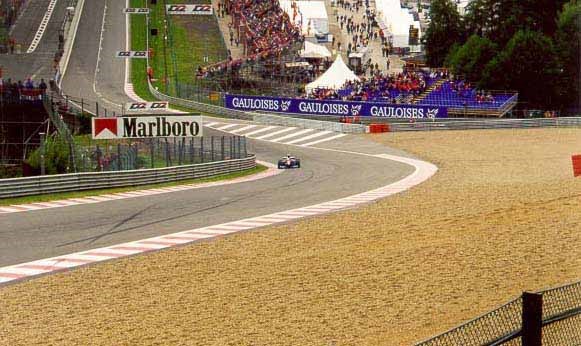 Now you're set for climbing the Raidillon. The marks you see on the above pic as well as on the one below were left by Mika Salo. On Saturday morning, during the fourth free session, the car was finally set to Mika's liking and he decided to go for it. When the car finally settled and he accelerated fully, he bottomed out, the car lifted a bit and he shunted into the tyre wall at the top of the crest. As the team explained later, the car was set half a millimeter too low, which they didn't know at the time because the car had never gone through there at full.

Now the car is set for the crest. "All" you need to do now is keep the car on the line, and the straight will follow. You're practically at full speed. Ever wondered if you would drive up here at more or less 300 km/h? Wonder again.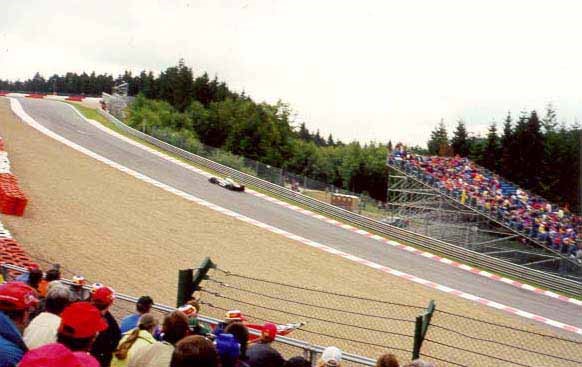 First guy to crest it at over 300 km/h during a race was Mika in 2000 when he followed Schu. Imagine what it takes in the way of melon sized thingies to shadow another car up there knowing the car will get light at the top and going 300+. Mika's speed there is without a doubt one of the most underrated bits of driving of the year 2000. His ride up the hill was what allowed him to do the Zonta on Schu.

Anyway,that's how steep, daunting, etc
.
it is.



---


Some pictures taken during Saturday qualifying.

Johnny aiming for the crest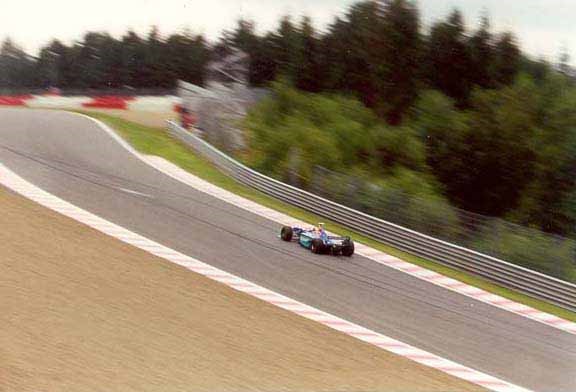 See Salo's marks. Villeneuve too went off at that precise point too, in what he later called his "best" F1 shunt. Looks like nothing seen from here, but the cars are going around 300 km/h. And since you don't see where you're going, you better hit that crest on the right spot, because you don't want to find yourself having to correct your line too much, and because coming over the crest correctly will be quite decisive in how fast you're going to travel the long straight that follows.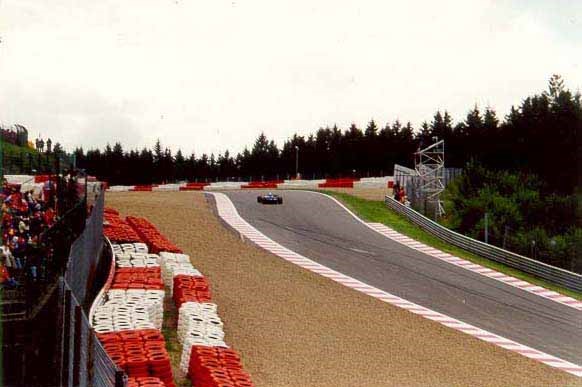 Michael Schumacher just loves that track. It's certainly not a "best of" pic, and I don't know why, but I like this one.

This was the Ferrari flying on Saturday. Sunday would be a very different story.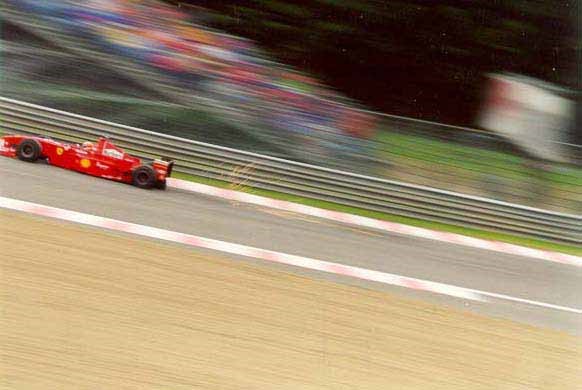 (the pic links to Lartigue's iconic photo; same style, same symbolism, I'm actually quite proud of the shot)
Michael Schumacher proved how treacherous it is to race in the wet, especially when one is riding on a high, thinking too much about the championship points ahead, overlooking the most basic principles of wet racing. Sure, Coulthard wasn't exactly doing Nobel-prize material, still, overtaking was Schumacher's problem. At least, it again proved those wrong who keep seeing Schumacher as a robot, which he isn't.
Here's a promising racer in a not so promising car, going up Raidillon without an umbrella, Jarno Trulli in the Prost.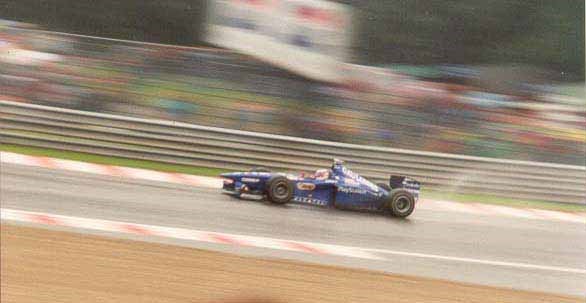 How bad is gist really? Take a look and ask yourself how fast you'd go up here?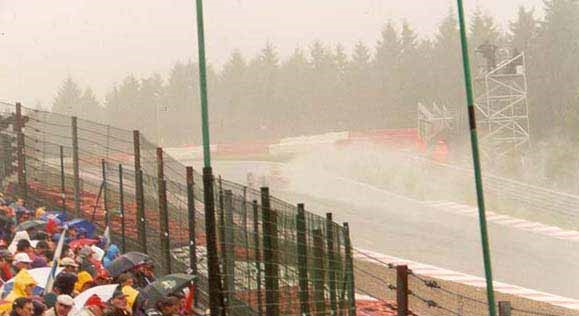 If this is Spa 98, we're in the race, and this is a McLaren, then this must be...?
(And it must have been before what lap?)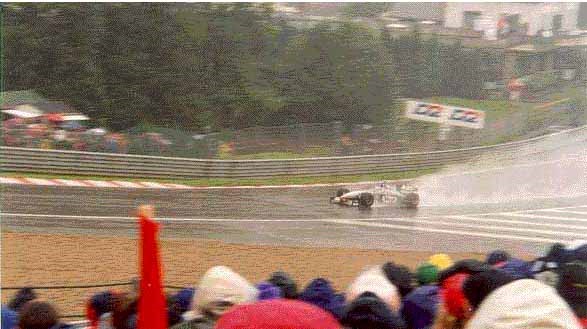 Ralf following Damon to Jordan's first GP victory ever. Well done, well deserved.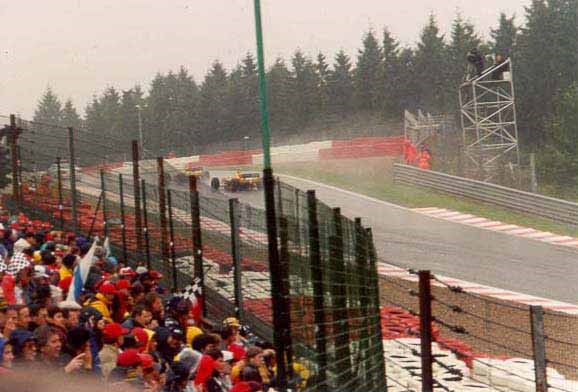 Martin Brundle in a Mercedes Benz W194

Brundle was, as Doctor John sings, the right guy at the wrong time. There are periods in one's life where everything goes right, and some, where everything goes wrong, and then, there are those periods inbetween. Martin's active driving fell into that period of one's life, where everything goes nearly right, yet never somehow fully so. He may never have become champ, but he certainly deserved a win or three. Maybe if he had been racing at the time when these Benz were running the competition into ground...?

Brundle apparently had a lot of fun driving this car, although it takes a racer's mind to see the fun in manhandling one of these beasts around Spa in the wet. Here's MBsquare (MB in a MB) doing his thing: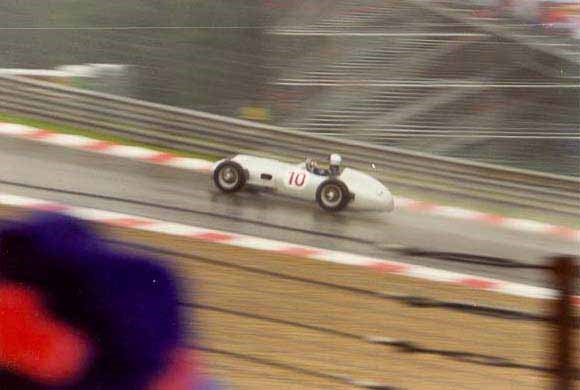 Yep, appreciated this man driving this car as close to full song as possible. Jenks would have loved it.

(The rest of the original page was about details that were interesting or relevant then but I've lost the original pics so I dropped it:
- Mika's mishap at the 99 race;
- the pitlane;
- tobacco advertising:
- a softdrink company's ULM stunt;
- Minardi;
- Coulthard's I believe mobilhome;
- the importance of earplugs at a race track;
- my paddock pass;
- the hospitality tent's menu;
- a number of F1 links.
all of these available in one form or the other by searching online)
Special slot: at he back of the garages is the space from which the only car in Formula 1 starts that
has led every lap in every race it entered
and
will never be overtaken: