Tuborg

At the end of last century (I mean the 19th), Nr Thue was a rich danish businessman. As all true nouveau riches, he wanted a house representative of his standing, so he had a castle built near Kopenhagen. Castles normally stand on hills or borgs, as the Danes call what they consider hills. Logically, Mr Thue's castle on the borg of Ryvangen became "Thuesborg". But Mr Thue had to flee Denmark, apparently for not paying back money loans. His castle was then bought by a Danish brewery which had at the same time made a new pils. Naturally they called it "Tuborg".

Vat 69

Mr Sanderson, a Scottish distiller, set out in 1863 to create a new whisky. He made one hundred samples and invited his friends for a tasting. They agreed that the sample from the vat Nr 69 was the best. (Or maybe they just decided to call it a day after they had tasted sample Nr 69. I would have.)

Various names have been added since the list was first completed:

Kröver Nacktarsch

A Rivaner, or as the Germans say, a Müller-Thurgau from the German Mosel's little village Kröv. Kröver Nacktarsch means "Naked ass from Kröv". According to legend, in the middle ages, the local abbey owned all the wineyards in the area. The local serfs, the slaves of the Middle Age, had to work the monks' property and harvest the grapes. As "payment" for their services, they were allowed to keep one day's harvest to themselves. One year, the grapes were so excellent, the monks tried to find a way to cheat the locals out of their fair share. They added laxative salt to their serfs' food on "payment" day, so that the workers would have to run for relief while they were working. When the serfs noticed the ruse, they sent only women into the wineyards who didn't wear anything under their workrobes. This way they could s... and work at the same time. In other words, they harvested bar-butted.

That is the true story. Here's the one they invented later for marketing purposes. A wine grower caught kids trying to nip some of his wine so he smacked their butts. Unfortunately they now make the wine labels after this story.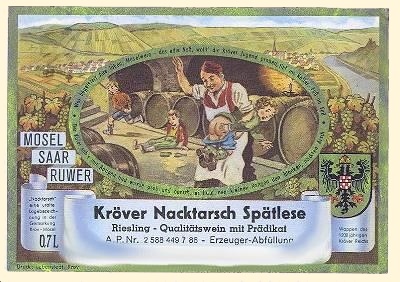 McLaren

Shouldn't really be here, because it's not a drink in itself. The name is of course most famous for Bruce McLaren and the F1 team he created and which runs as strong as ever today, but McLaren is also the name of a valley in Australia with a reputation for growing some of Australia's finest white wines. And since Australians are growing great wines, McLaren, as a good one among the good ones, must be something really nice. Never had a chance to try, but then I never sat in a McLaren either.

Not only is this a true McLaren, it's also owned by, nope, not Ron, but Peter Dennis! Can't drink and drive you know!

Pontarlier

One of the finest pastis, produced in Pontarlier. Unfortunately, as many small French producers, the company refuses to export its product because of the humunguous amount of French export paperwork to fill out which would make any export unprofitable. Again, due to French bureaucratic overload, the Pontarlier is only sold in the area around the city of Pontarlier. If you like your pastis and you're ever in that part of France, try it, you'll like it.

Rivaner

Rivaner is a Luxembourg word creation. The same wine is known in Germany as a Müller-Thurgau. Rivaner is widely believed to be short for Riesling and Silvaner, which might be true, but DNA analyses proved that the Rivaner grape is originally a blend of Riesling and Chasselas, a Swiss white close very similar to Silvaner. Indeed, the creator of the Rivaner is a Swiss wine grower, Mr Müller-Thurgau, who was an oenologist from Chasselas.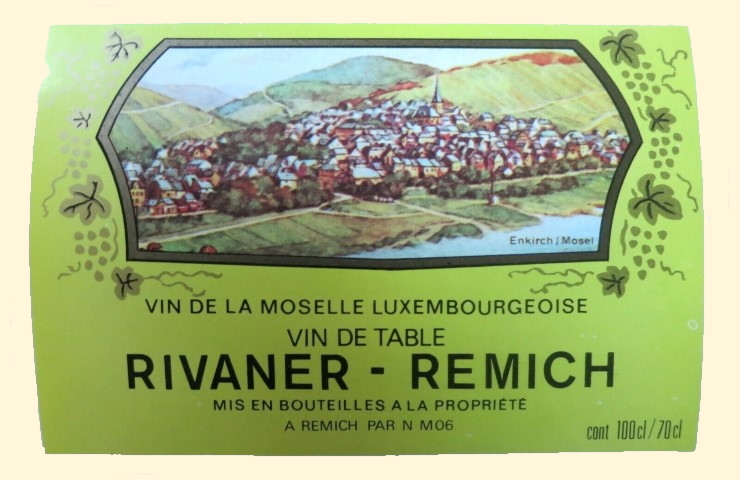 Johnnie Walker

Since the early 19th century, the Walker family ran a hardware-drugstore in Kilmarnock, Scotland. The father, John Walker, distilled a whisky on the side, strictly for family use, but his scotch was so fine his son Alexander started selling to the store's clients, and better yet, to all the salesmen that came to visit him, a pretty neat way of getting the Walker whisky known as the salesmen would spread the word. In fact, its reputation grew so much that in 1880 Alexander opened a store in London to sell the "Walker's Kilmarnock Whisky" all over the empire. At this same time, phyloxera destroyed the French wineyards. As a side-effect, Cognac came into short supply because of wine- and winebarrel shortage and England was ready for some decent home-brew. Around 1900, the company decided to rename its whisky Johnnie Walker and they put the old man's picture on their label. Johnnie Walker started coming to every house.